Your club needs you!
All swimming clubs in Dorset rely on volunteers who are essential to the existence and smooth running of the club. The roles required to run a club can range from simply taking the register at training sessions or helping to arrange fixtures, to teaching and coaching on poolside, with there being many other jobs in between.
Volunteers are often parents but we also welcome retired swimmers, youth volunteers who have an interest in sport and anyone willing to give some time, however little and whatever your background.
Clubs also often seek professional people or people with particular skills who can perhaps support the organisation of a club as a treasurer, secretary, welfare officer, press officer or fundraiser.
If any of these roles appeal to you and you have some time to spare, we would love to hear from you.
Volunteer training
In time, and depending on your interest and skills, various training courses and workshops will be made available to you some of which are as follows:
Club Organisation and Management

Safeguarding and Protecting Children

Team Manager training

Teaching Swimming

Coaching Swimming or Open Water

Working with Disability Swimmers

Coaching Diving

Coaching Synchronised Swimming

Coaching Water Polo

Young Volunteer Programmes
And of course no aquatic event can run without officials. Timekeepers, judges and referees are always in demand for all our disciplines and training for these roles are ongoing in Dorset.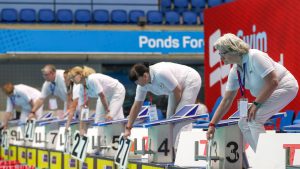 How to keep up to date
Your Club Secretary will be kept informed of forthcoming training and funding opportunities, but course details can be found on the Development pages of this website, and also on both the Active Dorset and Swim England South West websites.
Child protection
Everyone aged 18 years or older and working with under 18s in a club must be DBS checked. This is common to all sports-related clubs and the forms needed for this process can be obtained from your Club Secretary. The process is free and is undertaken via Swim England. Everyone aged 16 years or older and undertaking certain roles within a club must also hold a current Safeguarding and Protecting Children certificate. Your club welfare officer will be able to advise whether a Safeguarding and Protecting Children certificate is necessary for the role you undertake.
© British Swimming