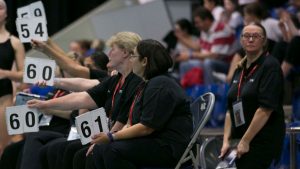 Officials within artistic swimming are to be offered the opportunity to upskill and widen their knowledge of volunteering within the sport with a new Artistic Swimming Chief Recorders Course delivered on a national basis, and aimed at increasing the number of Chief Recorders available to support competition delivery.
Individuals who successfully complete the one-day course and have been observed at a regional and national level will receive national chief recorder status, which can be used at both regional and national competitions. New chief recorders will be supported and mentored by one of the current active chief recorders.
Those who completed the National Scorers Course within the last decade are also eligible for the course, which will take place on 21 November.
If you are interested in taking part in this course, register your interest via this link. Applicants will then be asked to submit a short Artistic Swimming CV demonstrating their experience. A selection panel from within the sport will review these before sending out invites.